Go with a name and brand you can trust. GeoBlue is the trade name for the international health insurance programs of Worldwide Insurance Services, an independent licensee of the Blue Cross Blue Shield Association. GeoBlue health plans are offered in cooperation with certain local Blue Cross and Blue Shield companies, with a network that includes more than 90 percent of physicians and 80 percent of hospitals across the U.S. GeoBlue's comprehensive portfolio of international health insurance plans demonstrates the commitment to covering members both at home and abroad.
Global travelers like you can leave home feeling confident that a trusted source of care is available at a moment's notice—no matter what country, town or time zone. GeoBlue's highly qualified doctors speak your language, treat you like a friend, and bill GeoBlue directly for their services. With instant access in the palm of your hand and twenty-four/seven concierge support, you'll travel anywhere with the peace of mind that if your health is a concern, getting good care is not.
Residing or traveling for a short term period outside your country of citizenship may create challenges to your current health care program. Brief trips expose you to risks which may not be covered by your current domestic health insruance plan. It is prudent to procure International Health Insurance coverage prior to leaving your home country and traveling aboad. In addition some countries you may be traveling to may require proof of coveage as a condition to your visa. When you are traveling abroad and your coverage needs to provide benefits for things such as Sickness, Accident and Medical Evacuation. Most domestic plans do not cover medical evacuation which can cost as much as $250,000 or more. In addition you will also need more than insurance. You will also need knowledge, information and safety resources that will help keep you safe and health.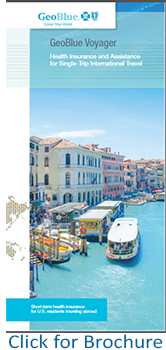 GeoBlue Voyager Essential & Voyager Choice - two plans offered
GeoBlue Voyager is a short term travel health insurance plan that includes services to help you identify, access and pay for quality healthcare. GeoBlue Voyager fills health and safety gaps internationally:
Voyager Essential Plan Highlights
Voyager Choice Plan Highlights:
GeoBlue Multi-Trip Trekker Essential & Trekker Choice - two plans offered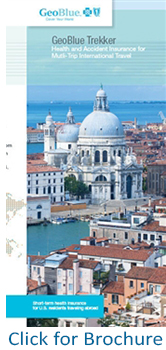 GeoBlue Trekker is a short term health and accident insurance for Multi-Trip International Travel. GeoBlue Trekker provides the traveler with international health insurance for multiple trips throughout the year. It is also a complete package of services to help you identify, access and pay for quality healthcare anywhere in the world.
Trekker Essential Plan Highlights
Trekker Choice Plan Highlights: