Cigna Global SafeTravel Smartphone App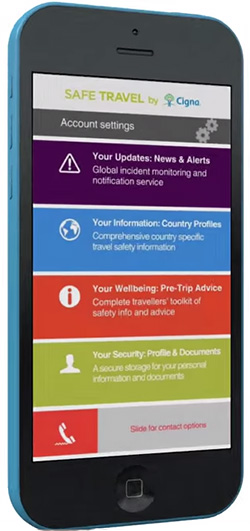 Few people who plan to travel abroad spend much time thinking or worrying about getting sick or injured while away. Most are simply excited to get started on their new global journey and see what experiences await them. If you are planning a longer travel event such as living abroad for a period of time that exceeds 6 months then you need to consider procuring a comprehensive International Medical plan specifically designed for expats.
Cigna Global has been around a very long time and they have provided global cover to expats literally around the world for more than 30 years. No one wants to think about getting sick and certainly not injured while living abroad. But the reality is that this is a very real possibility. In addition many countries around the globe will require some proof of International Cover, although minimal, before they will issue a visa to you. Truthfully most people live as an expat and enjoy a healthy experience. But there are also those who experience one or more medical emergencies, by no fault of their own and if this happens just having an International health plan that looked good on paper is not enough.
In the event of a medical emergency where do you go for care? How do you get to your destination? Who is in your corner to serve as an advocate for your care? What language barriers might you face? And even worse - who and how is your medical care going to be paid for? These are all questions that people who have faced a medical emergency while abroad most certainly faced.
Cigna Global is not only there to assist you 24/7 via the Internet and by phone communication they also offer you a new SmartPhone App that you can download to your phone giving you the ultimate traveling companion. SafeTravel was developed by leading travel security experts for Apple and Android devices. Cigna's GOLD and PLATINUM customers will be able to access global travel advice, real-time alerts, news on breaking incidents, and an Online document storage facility from anywhere in the world.
News and Alerts
SafeTravel's News and Alerts is a global incident monitoring and notification service providing you with push notification travel news and security alerts, ensuring you are made aware of any potential hazards, risks or impending security concerns that could hinder travel plans or arrangements. You can select to receive specific destination related news/alerts during your trip and prior to departure to ensure you are fully aware of any potential hazards or security concerns.
Country Profiles
Country Profiles is a comprehensive travel risk management service that provides you with accurate up-to-date information and security detail for over 200 countries. Information includes incidents that could affect your safety and well-being, such as health warnings, crime, terrorism, political instability or extreme weather conditions.
Profiles & Documents
Profile and Documents is a secure storage portal, designed to provide you with easy access to copies of essential travel documents and information when you need them most. If your travel documents are ever lost, damaged or stolen whilst abroad the storage portal will come in handy. Data security is a top priority. Documents are uploaded and stored in the cloud if you choose to sync your phone.
Pre-Trip Advice and SOS
Pre-trip advice is a complete tool kit which gives you safety information and advice. The SOS feature is useful during medical emergencies, personal safety incidents, automobile accidents or search and rescue situations. When activated - SOS will send an emergency message to a programmed contact giving details of your GPS location and including an audio/visual taken from the mobile device during the emergency situation.
Living abroad is full of challenges for sure. There are so many things that one must do prior to and while living outside the borders of their home country. Peace of mind is certainly one of the items on most expats lists. Cigna Global's SafeTravel phone App is just one more tool at your finger tips that in the event of a medical emergency you are not alone.
Cigna Global offers a unique approach to International coverage in that they have created a modular approach to building the International Health Insurance coverage you need. Starting with the core insurance policy which provides protection for essential hospital stays and treatment and then tailor the rest of your plan by adding the essential components you feel are necessary. Check out the plans from Cigna Global and see if they are right for you and your family.
NEW RATE REDUCTION FOR INBOUND TO THE USA
Cigna Global recently announced a rate reduction of up to 25% over current rates for all new business for expats planning to move to the United States for extended periods of time. There is no better time to get a quote from Cigna Global. It is easy to do and enrollment is done completely Online. Decisions come within hours so you are not waiting for an answer. If you have questions simple contact me by phone 1(619)-435-6700 or send am email to "sales@individualhealth.com"... I am here to help!
FOR MORE INFORMATION ON CIGNA GLOBAL EXPATRIATE PLANS CLICK HERE