GeoBlue Voyager Choice International Travel Medical Insurance...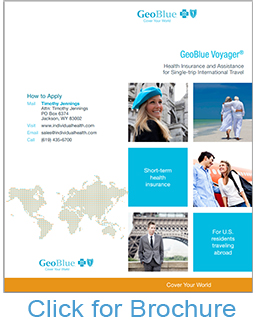 GeoBlue Voyager is a short term, Single Trip travel health insurance plan that includes services to help you identify, access and pay for quality healthcare. GeoBlue Voyager fills health and safety gaps internationally:
Insurance - Even if you are already enrolled in a health plan, your coverage is limited when you travel abroad. In fact, your plan may not pay to have you safely evacuated if you are critically ill.
Information - Where do you turn to learn which hospital and physicians meet your standards? Keep up with breaking news about health and safety threats? Translate key medical terms and brand-name drugs?
Access to Quality Care - How do you find a western-trained, English-speaking doctor with the appropriate skills? How do you arrange a convenient appointment? Each GeoBlue Voyager policy includes broad , deep and reliable Global Health and Safety Services easily accessed through the web or their toll-free customer service center.
Two Plans Offered - Voyager Essential & Voyager Choice
Voyager Essential Plan Highlights
Choice of varying medical limits and deductibles
For trips up to 6 months for ages 84 or younger
Covers pre-existing conditions for medical services and medical evacuation
Benefit Maximum Choices of $50,000, $100,000, $500,000, $1,000,000
Emergency Medical Evacuation up to $500,000 per insured
Deductible options of $0, $100, $250, $500
Inpatient and Outpatient covered at 100%
Does Not requires a primary health plan**
Voyager Choice Plan Highlights
Choice of varying medical limits and deductibles
For trips up to 6 months for ages 84 or younger
Covers pre-existing conditions for medical services and medical evacuation
Benefit Maximum Choices of $50,000, $100,000, $500,000, $1,000,000
Emergency Medical Evacuation up to $500,000 per insured
Deductible options of $0, $100, $250, $500
Inpatient and Outpatient covered at 100%
Requires a primary health plan**
For those with no Primary Insurance select the Voyager Essential Plan Option
**Primary Plan is a Group Health Benefit Plan, an individual health benefit plan or a governmental health plan designed to be the first payer of claims (such as Medicare) for an Insured Person prior to the responsibility of this Plan. Such plans must be coverage limits in excess of $50,000 per incident or per year to be considered a Primary Plan.
GeoBlue Voyager Travel Medical
Essential
Choice
Maximum Benefits per Insured
$50,000, $100,000, $500,000, $1,000,000
Deductible per Insured
$0, $100, $250, $500
Professional Services
Surgery, anesthesia, radiation therapy, inpatient doctor visits,
X-ray & lab
100%
100%
Office visits, X-rays & lab
100%
100%
Inpatient Hospital Services
Surgery, X-rays & lab
100%

100%

Inpatient medical emergency

100%

100%

Ambulatory surgical center

100%

100%

Ambulance service
100% up to $1,000
Claims resulting from downhill skiing and scuba diving
Maximum Benefit up to $10,000
Other Services
Outpatient Prescription drugs outside the U.S.
50% of expensses up to $5,000
100% of expenses up to $5,000
Dental care required due to an injury
100% of covered expenses up to $200 per trip period
100% of covered expenses up to $500 maximum per trip period
Dental Care for pain relief
100% of covered expenses up to $100 maximum per trip period
100% of covered expenses up to $500 maximum per trip period
Physical and Occupational Therapy
6 visits
Accidental Death and Dismemberment
Repatriation of Remains
Medical Evacuation
Beside Visit

Voyager For U.S. Students and Faculty

If you are an out-bound student or faculty member and your stay abroad will be less than 6 months than the GeoBlue Voyager Choice and Essential plans may be your best option. Like the Voyage plan above - if you have an existing domestic health insurance plan than the Voyager Choice will cover pre-existing conditions for medical services and medical evacuation. If you don't have an existing domestic heath plan than don't worry you simply enroll in the Essential plan. Should you decide to extend your stay overseas longer than 6 months you have two options. First you can renew your Voyager Plan for a new 6 month period or you can apply for an Expat plan that will cover you indefinitely. The choice is yours.
Need coverage for more than 6 months as a student or faculty member? GeoBlue offers their Navigator Series which will provide cover from as few as three months up to as long as you renew the plan.
CLICK HERE FOR MORE INFORMATION
Emergency Medical Evacuation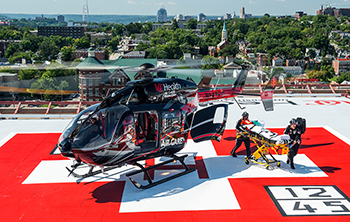 World travelers need to properly protect themselves against financial exposure due to catastrophic medical events. If comprehensive travel medical benefits and assistance services are not secured before you travel, you could find yourself exposed to huge losses - both physical and financial. Though illness can strike at any time, when severe incidents occur overseas, lack of proper coverage can leave you the traveler with steep medical bills for less than sufficient care.
As a global traveler you need to be prepared for the possibility that you could find yourself in a location where the Medical Care is poor or inaccessible. In the event you find yourself in a situation where you need to be evacuated to an area where you can receive the appropriate level of care then you need to make sure your International coverage includes a comprehensive Emergency Medical Evacuation benefit. Medical evacuations are not a simple procedures and they can be extremely complicated and expensive. This must be available to you 24/7 no matter where in the world your travels take you. In addition you need a partner who is capable of organizing and carrying out the evacuation no matter where you find yourself.
Considerations for any medical evacuation are:
Evaluating the appropriateness of local health care providers
Identifying the closest facility where a high level of care is available
Determining the risk vs rewards of moving the patient
Choosing the best method of transport (ie: ambulance, helicopter, fixed wing air ambulance)
Securing the cooperation of the local treating physician, including a determination that the patient is stable enough to move
Enlisting the most appropriate team to handle the transport (ie: doctor, nurses, therapist)
Arranging for speedy and appropriate intake at the receiving facility
Having someone on your side helping guide you through the whole process - that is GeoBlue...
Make sure when you travel, you travel with a full service, travel health plan that provides a higher level of protection and peace of mind than standard evacuation memberships offer. If you are not sure about your current plan or one you are considering make sure you get a copy of your certificate of coverage and read it. Make sure you have a completepicture of what you are buying. Then cover yourself with the Power of Blue. GeoBlue offers this type of comprehensive coverage and it is built into their Voyager Choice and Voyager Essential Travel Medical plans.
Global Access On Your Mobile Device
GeoBlue provides access to amazing tools and level of care via a Smart Phone application which you download to your phone prior to departure. The GeoBlue mobile app called mMobile provides access to the best local doctors, hospitals and resources anywhere in the world. HTH's mMobile App helps you make the most of your travels by providing you with the tools to manage existing and unanticipated health conditions in faraway places where finding a doctor and explaining your symptoms should not be left to chance. mMobile brings you specific information and expert assistance to prepare and protect you no matter your destination.
Features of mMobile
Search Providers for medical, dental, or meta health care. Mapping via GPS technology
Request an appointment with a trusted HTH Worldwide or GeoBlue Provider
Arrange Direct Pay
Access Guarantees of Payment
File a Claim via your phone
Find a medication
Destination Intelligence
Translate Medicare terms and phrase.
Display an ID Card on a smart phone and send copy directly to provider
GeoBlue Mobile travels with your 24/7
Save 10% When you apply as a group with GeoBlue

When you travel as a group for trips of less than 180 days and if you have at least five people in your group then you may qualify for the GeoBlue Voyager Choice Group plan. With five or more people in your party you can save an additional 10% on your travel medical insurance premiums. It is easy to get a quote for your group.
Eligibility Requirements
Home Country is the U.S. and;
You must be under age 85 and;
Enrolled in a Primary Plan** and ;
For Children under age 6, must be enrolled with a parent and;
Initial purchase must be made in home country prior to departing on trip from a GeoBlue eligible state

Why Choose GeoBlue?
Go with a name and brand you can trust. GeoBlue is the trade name for the international health insurance programs of Worldwide Insurance Services, an independent licensee of the Blue Cross Blue Shield Association. GeoBlue health plans are offered in cooperation with certain local Blue Cross and Blue Shield companies, with a network that includes more than 90 percent of physicians and 80 percent of hospitals across the U.S. GeoBlue's comprehensive portfolio of international health insurance plans demonstrates the commitment to covering members both at home and abroad.
Strength of a U.S. Insurer - Underwritten by 4 Ever Life Insurance Company, rated A- (Excellent) by A.M. Best. 4 Ever Life is an independent licensee of the Blue Cross Blue Shield Association.
GeoBlue Pays their Claims...
When you shop for a health insurance plan to cover yourself and your family what you are buying is really a promise to pay. A promise that if you find yourself in a situation where medical services are needed while you are traveling you want to know you have an advocate on your side to help guide you to the best possible medical care AND that your medical bills will be paid and done so in a timely manner. GeoBlue is that company. Click Here to view an actual case study that details how a Voyager Choice policy holder was treated.
GeoBlue is Different
Enjoy 24/7 Phone, Web and Mobile Support
Prompt Access to Trusted Doctors and Hospitals
Cashless Appointment Scheduling
Paperless Claims Resolution
Destination Health Intelligence
Access to Worldwide Travel Alerts via GeoBlue website
Physician & Provider Network -
What Good Is Health Insurance If You Can't Find a Doctor You Trust?
GeoBlue has an elite network of doctors from most every specialty ready to see you in over 180 countries. Only a small fraction of doctors around the world meet GeoBlue's exacting standards—participation is by invitation only. We seek out professionals certified by the American or Royal Board of Medical Specialties who speak English, and we factor in recommendations by over 158 Physician Advisors from all over the world.
GeoBlue assembles in-depth provider profiles so their members can choose with confidence, and they put formal contracts in place to ensure preferred patient access. GeoBlue doctors and hospitals bill GeoBlue directly so you don't have to worry about filing a claim.
For members choosing a GeoBlue plan that offers benefits in the United States, you gain access to the largest national network and facilities that have been awarded the coveted Blue Distinction for superior medical outcomes. In the U.S., more than 80 percent of physicians and 90 percent of hospitals contract directly with Blue Cross and Blue Shield Plans.