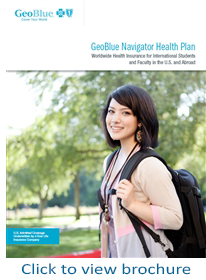 Fall Semesters Abroad are about to begin..
Summer is quickly coming to an end and it is time for Fall Semesters for colleges and universities around the globe to begin. Most schools require proper and verified International cover for their foreign student body. GeoBlue offer the Premier International Medical plan for the global student or faculty member. Get the Brand before you send your student abroad and have peace of mind that they are protected by the best in International cover...
CLICK HERE FOR MORE INFORMATION
HTH Worldwide TripProtetor Trip Cancelation & Medical Insurance

HTH Worldwide, the owner of the GeoBlue Brand now brings you their new TripProtector Medical and Trip Protection plans for the savvy traveler. With TripProtector you can insure the investment made in a future trip and at the same time insure your health with one product. TripProtector is a comprehensive plan that offers travel protections PLUS travel medical insurance. TripProtector includes medical protection, trip cancellation, trip interruption, baggage protection and more. It boasts a complete set of services to help you identity, access and pay for healthcare services in 190 countries.
Emergency Medical Evacuation
World travelers need to properly protect themselves against financial exposure due to catastrophic medical events. If comprehensive travel medical benefits and assistance services are not secured before you travel, you could find yourself exposed to huge losses - both physical and financial. Though illness can strike at any time, when severe incidents occur overseas, lack of proper coverage can leave you the traveler with steep medical bills for less than sufficient care.
As a global traveler you need to be prepared for the possibility that you could find yourself in a location where the Medical Care is poor or inaccessible. In the event you find yourself in a situation where you need to be evacuated to an area where you can receive the appropriate level of care then you need to make sure your International coverage includes a comprehensive Emergency Medical Evacuation benefit. Medical evacuations are not a simple procedures and they can be extremely complicated and expensive. This must be available to you 24/7 no matter where in the world your travels take you. In addition you need a partner who is capable of organizing and caring out the evacuation no matter where you find yourself.
Considerations for any medical evacuation are:
Evaluating the appropriateness of local health care providers
Identifying the closest facility where a high level of care is available
Determining the risk vs rewards of moving the patient
Choosing the best method of transport (ie: ambulance, helicopter, fixed wing air ambulance)
Securing the cooperation of the local treating physician, including a determination that the patient is stable enough to move
Enlisting the most appropriate team to handle the transport (ie: doctor, nurses, therapist)
Arranging for speedy and appropriate intake at the receiving facility
Having someone on your side helping guide you through the whole process - that is GeoBlue...
Make sure when you travel, you travel with a full service, travel health plan that provides a higher level of protection and peace of mind than standard evacuation memberships offer. If you are not sure about your current plan or one you are considering make sure you get a copy of your certificate of coverage and read it. Make sure you have a complete picture of what you are buying. Then Get The Brand and cover yourself with the Power of Blue. GeoBlue offers this type of comprehensive coverage and it is built into their Voyager Plans, Xplorer Premier, Xplorer Essential and Xplorer Select Medical plans for Expats.
GeoBlue Navigator Health Plan for International Faculty & Students...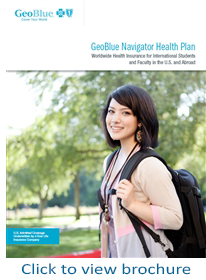 Worldwide health insurance and services for Students and Faculty - The GeoBlue Navigator health plan meets the needs of International Students and Faculty by offering comprehensive worldwide benefits - inside and outside the U.S. - without the typical limits, eligibility conditions and benefits exclusions common among traditional plans. As global lifestyles emerge, the demand for comprehensive international health insurance has grown rapidly. In response to this demand, a new generation of superior health plans is now available to serve expatriates and their families. This is a positive development for American expatriates who have historically had limited choice when it comes to coverage. Existing insurance options have often missed the mark because of limited benefits, long waiting periods, harsh exclusions, per-certification penalties, lack of portability and other hidden gotchas.
CLICK HERE FOR MORE INFORMATION.
Become a GeoBlue Agent

The Affordable Care Act by any measure has been one of the worst events to reach the broker community in over 30+ years. Are you tired of being treated as if you are no longer a valued partner? Tired of being misled? Need to feed your family? Are you ready to readjust your business model for success? Refocus your efforts and quit listening to the Naysayers. Become a GeoBlue Agent and get back to a place where you are valued as a partner once again. The International Health Insurance markets are booming and they are not subject to the ACA. The time has never been better than now to reach out to those who will be traveling or living abroad. You can make a difference and still salvage your career. Don't waste any more time and explore what GeoBlue has to offer you, the broker...

CLICK HERE FOR MORE ABOUT BECOMING A GEOBLUE AGENT
Medicare Supplements and International Travel ...
You have reached your Golden Years and you want to maintain the same freedoms in healthcare that you enjoyed prior to age 65. Choosing a Medicare Supplement plan that fits your needs bears the same scrutiny you gave your health plan before reaching this stage in your life. Having a Medicare Supplement plan that allows you to go to any doctor, specialist or hospital in the country that is Medicare Approved - without having to worry about referrals is simply a matter of choice. But what happens when you plan to leave the boarders of the United States? Are you planning to travel abroad? Then make sure you have your International Coverages in place prior to your departure. Medicare and you supplemental plans only cover you when you are in the United States. With some very few exceptions International coverage is limited or non-existent. Do be caught without proper coverage.