NEW! HTH Worldwide TripProtetor Trip Cancelation & Medical Insurance

HTH Worldwide, the owner of the GeoBlue Brand now brings you their new TripProtector Medical and Trip Protection plans for the savvy traveler. With TripProtector you can insure the investment made in a future trip and at the same time insure your health with one product. TripProtector is a comprehensive plan that offers travel protections PLUS travel medical insurance. TripProtector includes medical protection, trip cancellation, trip interruption, baggage protection and more. It boasts a complete set of services to help you identity, access and pay for healthcare services in 190 countries.
GeoBlue Navigator Health Plan for International Faculty & Students...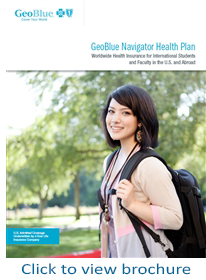 Worldwide health insurance and services for Students and Faculty - The GeoBlue Navigator health plan meets the needs of International Students and Faculty by offering comprehensive worldwide benefits - inside and outside the U.S. - without the typical limits, eligibility conditions and benefits exclusions common among traditional plans. As global lifestyles emerge, the demand for comprehensive international health insurance has grown rapidly. In response to this demand, a new generation of superior health plans is now available to serve expatriates and their families. This is a positive development for American expatriates who have historically had limited choice when it comes to coverage. Existing insurance options have often missed the mark because of limited benefits, long waiting periods, harsh exclusions, per-certification penalties, lack of portability and other hidden gotchas.
CLICK HERE FOR MORE INFORMATION.
Cigna Global Expatriate Health Insurance
Cigna Expatriate Health Insurance. Expatriate health insurance is designed for those who are living and working outside their home country. Designed to cover you 24/7 any where in the world. Cigna Global offers options that previously we did not have available to our customers. With the Expatriate plans from Cigna you tailor your health insurance plan to meet your specific needs. Choose from a Core Plan design and then add those additional options important to you. Three Core Plan designs offer a solid foundation from which to build your International health plan from. One new capability is that Cigna Global can now insure a foreign national from another country that will be living outside their home boarders but not within U.S. borders.
Become a GeoBlue Agent

The Affordable Care Act by any measure has been one of the worst events to reach the broker community in over 30+ years. Are you tired of being treated as if you are no longer a valued partner? Tired of being misled? Need to feed your family? Are you ready to readjust your business model for success? Refocus your efforts and quit listening to the Naysayers. Become a GeoBlue Agent and get back to a place where you are valued as a partner once again. The International Health Insurance markets are booming and they are not subject to the ACA. The time has never been better than now to reach out to those who will be traveling or living abroad. You can make a difference and still salvage your career. Don't waste any more time and explore what GeoBlue has to offer you, the broker...

CLICK HERE FOR MORE ABOUT BECOMING A GEOBLUE AGENT
Medicare Supplements and International Travel ...
You have reached your Golden Years and you want to maintain the same freedoms in healthcare that you enjoyed prior to age 65. Choosing a Medicare Supplement plan that fits your needs bears the same scrutiny you gave your health plan before reaching this stage in your life. Having a Medicare Supplement plan that allows you to go to any doctor, specialist or hospital in the country that is Medicare Approved - without having to worry about referrals is simply a matter of choice. But what happens when you plan to leave the boarders of the United States? Are you planning to travel abroad? Then make sure you have your International Coverages in place prior to your departure. Medicare and you supplemental plans only cover you when you are in the United States. With some very few exceptions International coverage is limited or non-existent. Do be caught without proper coverage.
Assurant Heatlh Individual Dental Coverage, no Networks Required...
Assurant Health offers Dental Coverage in most states throughout the United States. Assurant Health offers three dental plans to choose from to best meet the needs of you and your family. The dental plans from Assurant Health are affordable and easy to apply for. And best of all these plans do not require any networks and they pay cash to you. With benefits of up to $1,500 per year per insured you need to check these plans out,
HumanaOne Dental Preventive Plus PPO Dental Plan
HumanaOne offers a stand alone PPO dental plan called "Preventive Plus" for individuals and families in most states in the U.S.. Preventive Plus helps you meet your everyday dental needs. The plan covers services most often used, with the freedom to select any dentist; inside the networks or outside the networks. No underwriting is required and you can apply online for yourself or your entire family. If you are looking for a dental PPO plan then Preventive Plus is low-cost and offers discounts on basic and major services.