Almost 300,000 students each year will travel outside the United States to further their education in Study Abroad programs. This is an exciting time in their lives and most are eager to embrace their new educational options. But traveling abroad does not come without risk. International travelers seem to be faced with an ever increasing number of health and safety concerns. Travel concerns run the gamut from pandemics such as the H1N1 virus to terrorist threats like the Mumbai attacks. Given heightened risk, smart travelers are planning and preparing more than ever to avoid potential hazards.
International Travel medical insurance policies are designed to pick up where your primary health plan leaves off. If you do not have health coverage, these plans then act as your primary insurance while abroad. The best designed plans offer more than just emergency benefits. They cover big ticket items such as hospitalization and surgeries but will also pick up the tap on physician office visits, ambulance services, prescription medications and more. The premier plans make it a point to cover sickness or injury due to a terrorist event or pre-existing medical conditions. Critically, some policies will pay medical providers overseas on a direct basis so you can avoid hassles and red tape.
How Long Will Your Trip Be?
This is a very important question to answer because the length of time you are planning to reside outside the borders of the United States will determine which plan types you will need to consider. Most of the plans designed around a student that is studying abroad are short term plan designs. This means that the coverage is only available for up to 6 months (180 Days) before they terminate. Some plans allow the student to reapply for another plan but they end up being two separate contracts with a break in coverage. If your travels will keep you abroad for more than six months then you will need to apply for either a longer term Student plan which has limited benefits or a full Expat policy that will meet or exceed all of your needs.
Are you Outbound from the United States or Inbound to the United States?
If you are a U.S. Citizen that is traveling outbound from the United States you have several International Insurance options to choose from. HTH Worldwide Services and GeoBlue Travel Medical & International Health Insurance plan are the best choice for a U.S. Citizen simply because all of the plans from these two companies are insurance by U.S. Companies that are admitted carriers, which means that their plans are licensed and approved in the United States. Most all of the other products you will find here and elsewhere are products that are insured by offshore companies. Although these offshore companies have been around for a long time they do not have the same requirements to meet as U.S. based companies.
Below you will find four different options for the international student all of which are for short term lengths of stay. This means 6 months (180 Days) or less. For those students who will be studying abroad for more than six months then you will need to consider option number 5 which is a full Expat International plan.
Option 1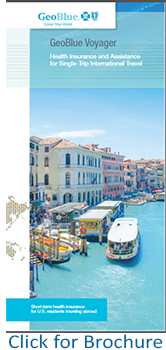 GeoBlue Voyager - Health Insurance & Assistance Single-Trip International Travel
GeoBlue Voyager is a short term travel health insurance plan that includes services to help you identify, access and pay for quality healthcare. GeoBlue Voyager fills health and safety gaps internationally:
Insurance - Even if you are already enrolled in a health plan, your coverage is limited when you travel abroad. In fact, your plan may not pay to have you safely evacuated if you are critically ill.
Information - Where do you turn to learn which hospital and physicians meet your standards? Keep up with breaking news about health and safety threats? Translate key medical terms and brand-name drugs?
Access to Quality Care - How do you find a western-trained, English-speaking doctor with the appropriate skills? How do you arrange a convenient appointment? Each GeoBlue Voyager policy includes broad , deep and reliable Global Health and Safety Services easily accessed through the web or their toll-free customer service center.
Two Plans Offered - Voyager Essential & Voyager Choice
Voyager Essential Plan Highlights
Choice of varying medical limits and deductibles
For trips up to 6 months for ages 84 or younger
Covers per-existing conditions for medical evacuation
Does not require a health plan
Voyager Choice Plan Highlights:
Choice of varying medical limits and deductibles
For trips up to 6 months for ages 84 or younger
Covers per-existing conditions for medical services and medical evacuation
Why Choose GeoBlue?
Go with a name and brand you can trust. GeoBlue is the trade name for the international health insurance programs of Worldwide Insurance Services, an independent licensee of the Blue Cross Blue Shield Association. GeoBlue health plans are offered in cooperation with certain local Blue Cross and Blue Shield companies, with a network that includes more than 90 percent of physicians and 80 percent of hospitals across the U.S. GeoBlue's comprehensive portfolio of international health insurance plans demonstrates the commitment to covering members both at home and abroad.
Strength of a U.S. Insurer - Underwritten by 4 Ever Life Insurance Company, rated A- (Excellent) by A.M. Best. 4 Ever Life is an independent licensee of the Blue Cross Blue Shield Association.
Better Coverage - Their plans are U.S. licensed and feature coverage more generous that plans sold as "surplus coverage".
Their plans do not restrict illnesses or injuries resulting from a terrorist act
They do not impose precertification penalties for hospitalization.
They provide coverage for pre-existing conditions for medical evacuation. Pre-existing conditions are also covered in all instances by GeoBlue's Choice plan.
Physician & Provider Network -
What Good Is Health Insurance If You Can't Find a Doctor You Trust?
GeoBlue has an elite network of doctors from most every specialty ready to see you in over 180 countries. Only a small fraction of doctors around the world meet GeoBlue's exacting standards—participation is by invitation only. We seek out professionals certified by the American or Royal Board of Medical Specialties who speak English, and we factor in recommendations by over 158 Physician Advisors from all over the world.
GeoBlue assembles in-depth provider profiles so their members can choose with confidence, and they put formal contracts in place to ensure preferred patient access. GeoBlue doctors and hospitals bill GEOBlue directly so you don't have to worry about filing a claim.
For members choosing a GeoBlue plan that offers benefits in the United States, you gain access to the largest national network and facilities that have been awarded the coveted Blue Distinction for superior medical outcomes. In the U.S., more than 80 percent of physicians and 90 percent of hospitals contract directly with Blue Cross and Blue Shield Plans.